Minecraft Collectible Figure Mystery Blind Box Only $3.97 @ Walmart.ca (EXPIRED)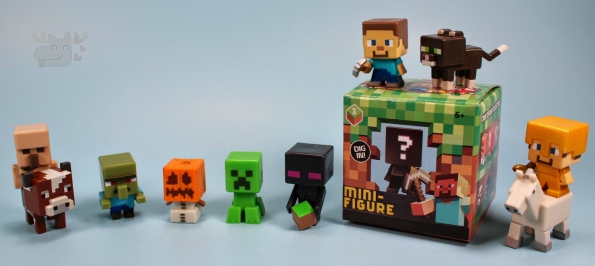 The Minecraft Collectible Figure Mystery Blind Box is on sale for just $3.97 at Walmart Canada. Pick up a few boxes and get them shipped to your local Canada Post location (or Grab & Go locker) for free.
Inside each box is a random mini figure from the Minecraft world. You could get Steve, the Creeper, or other characters. They all come in the classic Minecraft 8-bit style and are a great and affordable way for kids to collect all their favourite characters. You can be guaranteed these are authentic merchandise as they ship from Walmart.
So, these little boxes are a good deal as the original price was over $6 each before this sale price. I know this because the boxes are also on sale at Amazon.ca from $6.64 down to $3.97 but they are Add-On products at Amazon, meaning they do not qualify for free shipping at Amazon unless you are already buying $25 worth of stuff. Given their unfortunate status as add-ons at Amazon, I knew that the Walmart deal was better because you can get free shipping to your local Canada Post at no extra charge!
I found the same Minecraft Blind Boxes at Barnes & Noble for $4.45 USD and at ToyWiz for $7.99 USD. While I could not find this exact product at Chapters Canada, all their Mystery Minis Blind Boxes cost $9.95 each.  This is one of the older blind box series, so they are not available at very many places anymore.
These mini figures are from the grass series as you can tell by their boxes. There have been other series too (like the stone series) that are the perfect size match to facilitate play.
Given the great price tag and the small size, I think these would make excellent stocking stuffers for your Minecraft loving family members. I love surprise boxes and I am sure your children will love playing with these figures. They can always trade characters if they get a character they already have or that they do not want.
(Expiry: Unknown)