MemoryExpress Canada: Get $75 Of In-Game Goodies With GTX 650 Series Video Card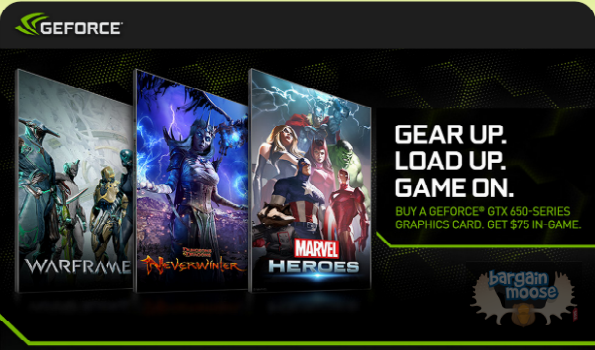 If you play Neverwinter, Warframe and Marvel Heroes and you want a new video card to run them, a GTX 650 series from MemoryExpress is what you want!
I've seen deals like this and I didn't write them up because they are so specific, but I decided that even if it doesn't appeal to every PC gamer looking for a new video card, the three games involved are popular enough that at least one of them will hit with a few people reading this. Basically the deal is that if you buy a GTX 650 from MemoryExpress, you get 465 Platinum in Warframe, one million Astral Diamonds in Neverwinter and 2600 Gold in Marvel Heroes. Each of those are worth $25, so the amount of value you get is dependent on which of the games you own.
If you don't own any of them (or don't plan on buying any of them) then this deal isn't for you. If you own or are planning on owning one of these games and you are in the market for a new video card, the GTX 650 series is a great option. Memory Express has thirty of them for anywhere from $115 to $200. They almost all include some instant savings as well as a mail-in-rebate, so there is a bit more for savings there.
Shipping is $4.99.
Do you own any of these games? All of them? Let me know in the comments below!
(Expires: Unknown)