Melissa & Doug Magnetic Responsibility Chart Now $20 @ Amazon.ca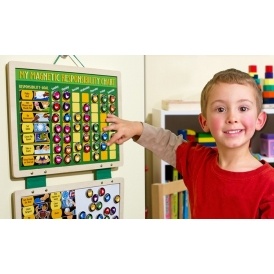 This chart is back at this more than reasonable price. Who needs one!? If you missed out last time I posted this deal, then here's your chance. Have you been looking for a way to motivate your kiddos to help out around the house? Here is your perfect solution! Get the Melissa & Doug Magnetic Responsibility Chart from Amazon.ca for just $19.99.
The Melissa & Doug Magnetic Responsibility Chart is a sure-fire way to encourage helpful behaviour and good behaviour. The magnetic chart will help you with tracking-and-reward which may be just what you need for things like potty training.
This set will include a pair of fabric-hinged dry erase boards. One of which will have space to track seven goals, and the other one is black for storing magnets. Speaking of magnets, there are 90 included in total. They include behaviours like Clean Room, Set Table, No Teasing, as well as rewards like Well Done, Excellent, You're a Winner and so on.
While this doesn't appear to be a sale price, it is in fact the best price you're going to find from a Canadian retailer. Other stores like Chapters Indigo, Toys R Us and Best Buy have this same charge for over $25.
Also keep in mind that Amazon.ca offers free shipping on orders over $25, so you may want to find a small filler to achieve that. Amazon Prime members get free shipping on this item as-is.
Would you use something like this with your kiddos?
(Expiry: Unknown)