Mayka Block Tape From $7.97 @ Walmart Canada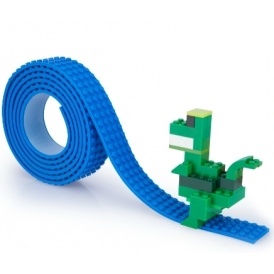 I was super excited when LEGO compatible tape came available on Amazon.ca - but now you can buy it and have it within days (as opposed to buying it from a third party Amazon seller). Walmart.ca has the Mayka Block Tape available from $7.97. The price depends on the length of the tape. With this stuff, you can make any surface into a LEGO compatible surface!
This MAYKA Block LEGO Compatible Builder Tape looks like so much fun! Stick it to any surface with the self-adhesive on the back and you will have yourself a LEGO playground.
Here is how the pricing works:
1 meter 2 stud - $7.97
2 meters 2 stud - $12.97
2 meters 4 stud - $19.97
Get free shipping on orders over $50 or opt for free pickup at your local Canada Post Office or Walmart Canada Grab & Go Locker on orders over $25. Orders under $25 will be charged a $5 processing fee.