Mastermind Toys: Trunki Travel Bundle $39.99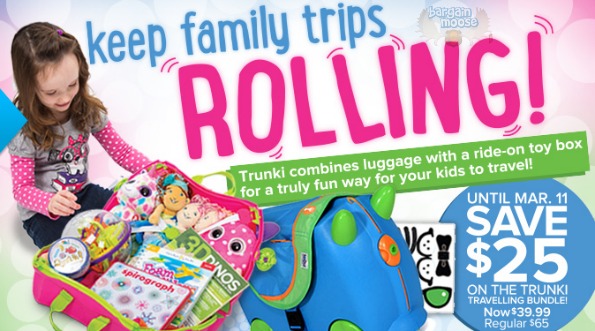 Mastermind Toys has another great deal on right now but this time it is a bundle deal.  Get a Trunki, Trunki stickers,and a Trunki saddle bag for just $39.99.
Eva recently blogged that Trunki is only $31.99 at Well.ca, but in this case the $8 more you'll pay are for the extras that are more than worth it!
Here is a breakdown of everything in this bundle.  You will get to choose  any Trunki (reg. $44.99) and choose any Trunki Saddle Bag (reg. $16.99) and get the Trunki Stickers (reg. $2.49 each) for the total bundle price of $39.99. That is a total savings of $25 with this deal.
Both the saddle bags and the Trunki luggage come in a few different styles and colours to choose from.  These are a very popular toy to have because they are so versatile.  They can carry things like luggage or you can use them as a ride on toy like a car.
I have been wanting to get my kids a Trunki for a while now so this is the perfect time with this bundle deal.  They are made by the Melissa & Doug brand so they are very good quality and very durable. This is something I always look for when buying kids items because my two boys are pretty rambunctious!
You will get free shipping for all orders of $60 or more.
(Expiry: 11th March 2014)