Mastermind Toys: Free Spot It Game with $20 Game Purchase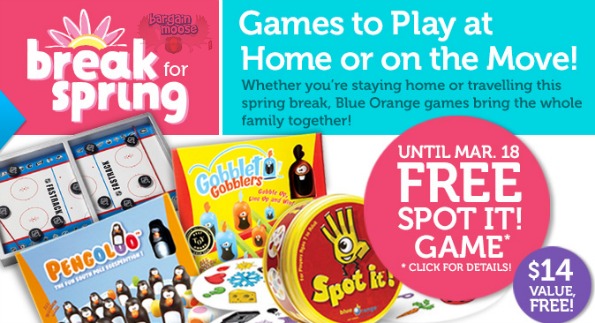 Mastermind Toys has a great free gift with purchase offer that is perfect for this time of year.  Get a free Spot It game with the purchase of $20 or more in Blue Orange games from Mastermind Toys.
There is nothing scarier for a stay at home parent then having bad or cold weather during Spring Break! My son's Spring break is in three weeks and with the very cold weather we have been having, playing outside is out of the question for us.  I have been racking my brain for indoor play ideas and when I saw this sale a light bulb went off in my head.  Games day inside!
Basically the way this deal works is you will get a free Spot It game when you spend $20 or more on Blue Orange games.  It is regularly priced at $13.99 so this is a great freebie to get. There are a variety of Blue Orange games to choose from. In fact, there are 15 different full filled games for kids that would be perfect for indoor fun during Spring Break.
You will be able to get free shipping for orders of $60 or more.
(Expiry: 18th March 2014)