Mastermind Toys: Free Knight Or Fairy Case With $25 Playmobil Purchase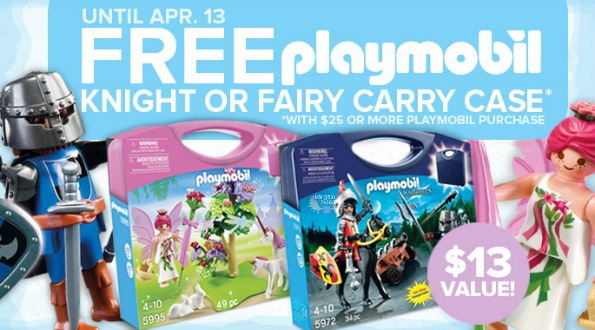 As I've blogged several times before, my kids absolutely adore Playmobil. Mastermind Toys has a terrific deal on that both kids and adults will love. Get a free knight or fairy case worth $12.99 with your purchase of $25 or more of Playmobil.
With Easter coming up, Playmobil sets could be your candy egg hunt alternative. I know quite a few parents who don't like their kids to have a lot of candy and loathe the sweet goodness of these holidays. While I love candy, I used to be the mom who hid granola bars and rice cakes for my kids to find from the Easter bunny. My kids just don't buy that anymore and while they would be fine with it, I can't imagine the lack of enthusiasm I'd get when instead of a chocolate bunny at the end of their hunt, they found an apple. Toys are a great alternative and Playmobil is great because there are literally hundreds of tiny pieces. While normally tiny pieces frighten me because of the whole stepping on them in the middle of the night factor, Playmobil's tiny pieces are totally cute. Like, one of our sets is a farm and it comes with tiny bunnies and kittens and carrots and other veggies. So, when I step on these I don't freak out as much as when I step on a LEGO block that means nothing to me. Instead I coo at the little plastic bunny.
Before you go all "Playmobil is so expensive" on me, remember that your spend is only $25 to get the free set. There are a number of really cute sets for only $3.95 or $4.95, that would be perfect little gifts during an egg hunt. This little architect with planning table is very cute and so is this mom with a baby carriage. Playmobil really  has any theme you can think of. These would also make great loot bag gifts at kid's birthday parties. Then your kid can keep the free case.
Shipping is free on a $60 purchase. It looks like only one case is free per order, so you can't order $50 worth and get two cases.
(Expiry: 13th April 2014)