Mastermind Toys: Free Calico Family with Cozy Cottage Purchase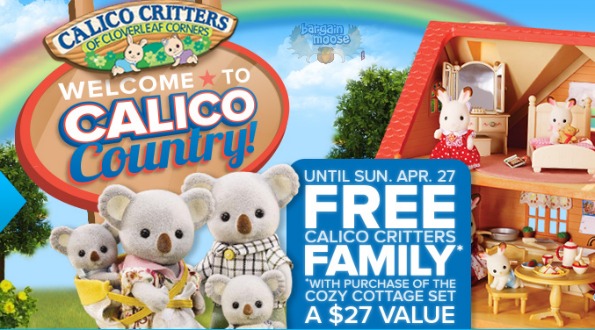 There is a great deal happening right now at Mastermind toys that will get you a free gift with your purchase.  Get a free Calico Critters Family with purchase of the Cozy Cottage set.
To take advantage of this deal, you must add the Cozy Cottage set to your cart. It is priced at $59.95 and includes a cottage plus over 10 furniture pieces and accessories including a Bell Hopscotch Rabbit Critter, a bed with cute matching sheets, a round table with chairs, a kitchen counter with sink and oven range, a movable ladder for easy access to each floor, cookware, and yummy-looking pretend food. Once you have added it to your cart, you will get the option to choose a free Calico Critter Family.
There are 15 different families to chose from and all of them are different cute animals.  Each family includes a mo, a dad, and two babies making this free gift a set of four. They are all valued at $26.99 so this is a great freebie to get. Once you add the family you would like to your cart, the price will go from $26.99 to Free!
Mastermind Toys offers free shipping for orders of $60 or more. Since the price of the cottage is just a few cents shy of $60, I would add a small item to my cart to get the free shipping as well.
(Expiry: 27th April 2014)