Mastermind Toys: Free 39 Clues Trivia Game With Game Purchase Over $30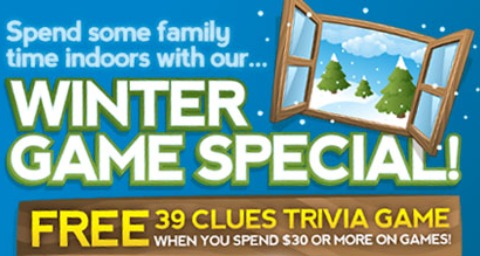 Mastermind Toys is having a winter game special! Get a free 39 Clues Trivia Game with any games purchase of $30 or more! Limit of 1 per order.
There are over 200 games to choose from at Mastermind Toys. My kids would have a lot of fun with this Smart Toss bean bag gamefor $59.95. They can play one of 4 bean bag toss games, or even better, make up their own games!
At the lake this past summer, I saw people playing this game everywhere! The Top Toss Pro Bolo Game is also $59.95. Rated for ages 8 and up, it looks like a great outdoor game for the whole family.
39 Clues Trivia games is valued at $30.  It's one of the most popular trivia games for kids ages 8 and up.