Mastermind Toys Canada: Save 50% On Yomega Gift Set & $5 Off Rubik's Cube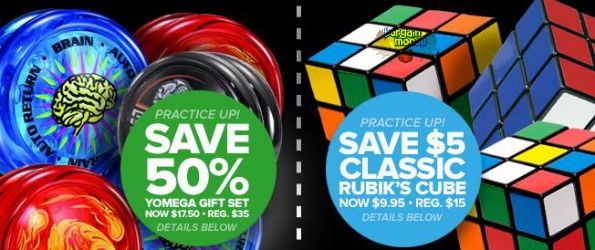 There are two great deals happening right now at Mastermind Toys Canada that are worth taking advantage of.  Save 50% on the Yomega gift set and save $5 on the Rubik's Cube.
The Yomega gift set (#100844) was $34.95 and is now just $17.47. It is a set of three yo-yos that match up with a beginner, intermediate or advanced skill level.
The Rubik's Cube (#69217) was $14.95 and is now just $9.95. This toy is the classic 3x3 version of this infamous game.  I remember having a Rubik's Cube when I was younger and I have never once solved it, even though I know a lot of people that have.  It is actually something that I have put on my bucket list that has always eluded me.
Either of these items would be a great addition to anyone's Easter basket this year.
Mastermind Toys Canada offers free shipping for most orders $60 or more.
(Expiry: 19th March 2013)