Mastermind Toys Canada: Free Sand & Water Castle With Aquaplay Set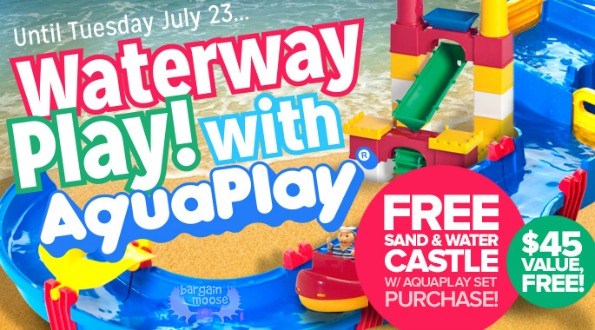 Get a free Sand and Water Castle (worth $45) with an Aquaplay set at Mastermind Toys, online and in-stores.
These Aquaplay sets are pretty cool and I could see them keeping kids of any age busy for hours. They range in price from $70 - $130 and in between, so getting $45 worth of stuff free is pretty sweet! They are easy to put together and take apart, are compact and store easily, plus you can add more and more pieces as you want more.
The most inexpensive set is the Aqualand 516 Set With Lock Box. You control the water with the water wheel, pump or scoop it with the crane. Lock it to stop it or watch the car and boat float down your river. $69.95
The Mega 544 Set With Lock Box has the same features, but of course on a mega scale! $129.95
The free Sand and Water Castle comes with 19 take-apart pieces, where you can build what you want with bricks, bridges and water wheels.
Shipping is free on orders over $60.
(Expiry: 23rd July 2013)