Mastermind Toys: B2G1 4M Science & Craft Kits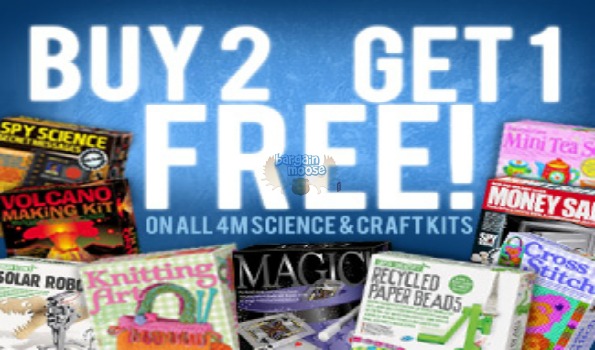 At Mastermind Toys until January 31st, buy two 4M science and craft kits and get one free.
Your future scientist will love the science kits. This deal would have been great for me before Christmas, when I bought a few of these kits for my oldest who loves doing experiments. There are tons of different ones to choose from, unlike some other buy one get one deals where you have limited choices.
Check out the magnet science kit ($14.95), where you use varying types of magnets to do experiments. The secret message kit ($14.95) lets you send secret messages, which can only be read by a secret decoder or use the mini morse code torch to send secret messages. If you have a little crafter at your house this mini tea set painting kit ($14.95) is totally cute. It is an actual porcelain tea set with cups, saucers, milk jug, etc., for your little one to paint. If you get all three of these sets, one of them will be free (a $14.95 value)!
If you are looking for smaller sets, they have sets as cheap as $4. This 3D art dinosaur world ($4.95) lets you trace and colour your dinosaur and then use the 3D glasses to watch your drawing come to life. What kid doesn't want a rocket to experiment with? The micro rocket is only $4.95. The hologramic scrape doodling lets you create miniature engravings ($4.95). Buy all three of these kits and save $4.95!
Shipping: Depends on quantity and delivery location. Get free shipping on orders of $60 or more.
Expiry: 31st January 2013