Marvel Iron Man 3 Motorized Arc FX Gauntlet was $23 now $12 @ Walmart Canada! (EXPIRED)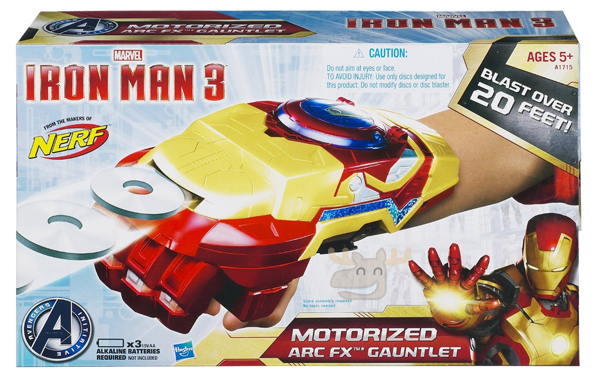 What kid wouldn't want this? Well, even I WANT this myself!! It's the Iron Man 3 Motorized Arc FX Gauntlet by Marvel, and it's showing at an absolutely superb price online at Walmart Canada. It was priced at $22.92 but just now, you can pick up this branded toy for only $12. Great deal!
The Marvel Iron Man 3 Motorized Arc FX Gauntlet comes with 10 discs for your kid to play with, and actually blasts those discs over 6 metres in distance.
We've seen a lot of hot toy deals in the clearance section at Walmart Canada over the last week. When we post one, sometimes it sells out within minutes. If you want this item, buy it NOW. I think it's a good idea to buy this for the present cupboard and save it for the next birthday or Christmas.
As for shipping, if you order this item on its own you would have to pay a little extra for shipping. But I think it's a much handier idea to collect this from your local Canada Post – that would be free. Alternately, stock your shopping cart up with a load more special offers online at Walmart.ca until it's $50 or more, then you will get free shipping to your home.
There's only one review commenting on the Gauntlet online at Walmart, and it's mostly positive. The only negative comment is that this toy is LOUD. The motor used to fire the discs was described as pretty noisy, so you might want to take that into consideration if you're buying this for your own household.
In terms of a price comparison, not many online stores in Canada sell this exact toy. However, I did find it going for $35 on Amazon – we can see that the Walmart price is fantastic.
(Expires: Unknown)