Little Tikes Perfect Fit 4-in-1 Trike $85 with Code @ Sears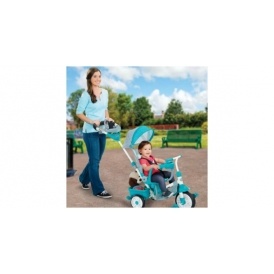 I came across another great find from Sears' outdoor sale today! We've actually been checking these out for our son lately so I knew right away that this is a great price. The Little Tikes Perfect Fit 4-in-1 Trike is on sale for $104.99 today, but use the code 941612673 at checkout to save an additional $20 and pay just $84.99.
I just love these things. This one adjusts to grow with kids from 9 months to 5 years old! It has a stroller-style handle for pushing the little ones as well as a foot rest for safety, beverage holder and storage tray. The high-back seat adjusts with the flip of a switch according to your child's size.
In the beginning, it's parent-powered then, at 12 month or so, they can start to use the pedals but you can remain in control of steering. At 18 months, the waist bar is removed so the child can steer but you're still able to guide them. Finally, at 3 years, the pedal and steer independently. All on the same handy bike; there's no spending money every season when they've grown out of the smaller one.
Top up your order to $99 for free shipping or have your package shipped to your local Sears store for pick-up for maximum savings.
(Expires: 5th April 2016)