Little Tikes Cozy Coupe Swing $24, reg. $40 @ Toys R Us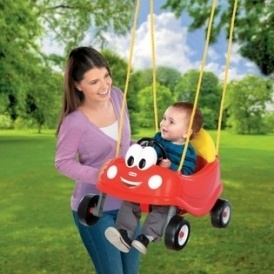 How cute is this Little Tikes Cozy Coupe swing? It will absolutely match the Little Tikes Cozy Coupes that so many Canadian children have in their backyards! This swing is recommended for ages 9 mos. all the way up to 3 years of age. It's on sale for $24, down from $40.
There's even a steering wheel on the car swing, with a horn! I say this with excitement because I know all kids love honking horns.
I trust the Little Tikes name because they hold high standards for safety. There's an adjustable seat belt and the rope is weather-resistant. It attaches easily to an existing swing set. You'll be giggling and laughing with your child in no time.
Can you imagine the great photos you can take of your child in this Cozy Coupe swing? I love taking pics. and see the photo opportunity in cute toys like this all the time.
This is an item that you can only order for in-store pick up though, so hopefully if you want one of these, you either live close to a Toys R Us or you know someone who can help you order and pick it up.