Liners & Booties from $11 @ Stonz Canada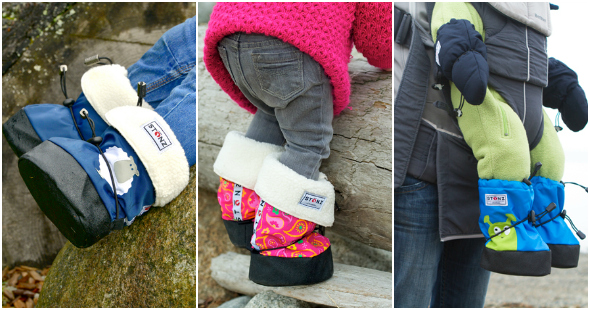 Check out these little boots, Moosers! If you've never seen Stonz boots anywhere else, they were invented by a Canadian mother who wanted warm, versatile footwear for very young children. After many prototypes modeled after adults' slippers, Stonz Booties were invented to fill the gap before kids are comfortable walking in hard-soled winter boots. The Booties were designed to go over whatever the child is already wearing; slippers, sleepers, socks, etc. for comfort and convenience. And how cute! Stonz Canada is having an End of Season sale through Sunday February 14th and select styles are up to 40% off. This includes a few styles of Stonz Bootz for older kids, as well.
There are so many colours and cute designs to choose from - the animal ones are my favourite but there are also polka-dots, flowers, butterfly and even Paisley designs if you've got a little girly-girl on your hands. The sheep on these Navy Blue Booties is just irresistible! Each pair of Booties has been discounted a full 40% - from $43.99 to $26.39. 
Also 40% off are a couple of styles of Bootz for bigger kids. They're available in White, Grey, Blue and Pink. There appears to be lots of sizes left in the grey, blue and pink; with only one Toddler size remaining in the white. Originally $59.99 to $67.99 depending upon size, their sale prices range from $35.99 to $40.79.
The optional Stonz Liners, which add warmth for the colder months, have also been marked down from $17.99 to $10.80. Be sure to read this helpful article regarding size selection of both booties and liners and see the charts here.
Orders over $70 ship for free from Stonz; below that mark, shipping is $9.
(Expires: 14th February 2016)