LEGO Build-On Bricks Coffee Cup Was $49 | Now $15 + Shipping @ MadDeal Canada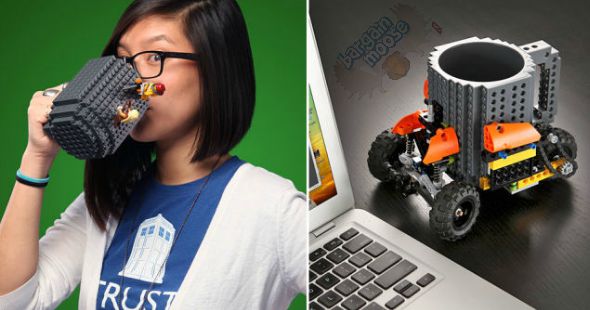 I love when we can combine our exclusive coupon codes with items that are already on sale. Right now MadDeal.com has the popular Lego Build-On Bricks Coffee Cup for just $19. The original price on this mug was a whopping (and unreasonable) $49. However, once you apply our Bargainmoose exclusive coupon code, you will end up paying just $15.20 plus $6.95 for shipping. That leaves you paying a total of $22.15 for this great mug.
Moosers, it is time to build your dream coffee cup. By that I don't mean slapping a family portrait onto the mug. I mean building onto this LEGO Build-On Bricks Coffee Cup available from MadDeal Canada. This mug had an original price tag of $49, but it is on for just $19. Once you use our exclusive coupon code BARGAINMOOSE, you will be left paying just $15.20.
This Lego Build-On Bricks Coffee Cup is great. I wish I would have spotted this type of item before Father's Day. It would be a great gift to build something onto the cup for Dad. You could always use a little glue to ensure it stays put together too, but make sure you research which glue would be waterproof so you can continue to wash the cup properly. The cup is made of a food-grade nontoxic plastic. It comes in black, gray, blue or red but as far as I can tell the colours are shipped out at random.
Each cup comes with a random 3 or 4 blocks, which won't let you build much. If you have a kiddo I am sure you have LEGO kicking around somewhere that you can use to build onto this mug. It is also compatible with PixelBlocks, Mega Bloks, KRE-O, and K'NEX bricks.
MadDeal.com has an abundance of items you can use with our exclusive coupon code if this LEGO Build-On Bricks Coffee Mug is not your style. Take a look at the other items you can combine with our coupon for 20% off anything @ MadDeal.com:
The downfall is the shipping cost unfortunately. Shipping is an additional $6.95 on this particular item, but shipping will vary depending on which item you choose. Don't forget to check out the other promotions and coupon codes available now and in the future at MadDeal.com. We have them all listed in our Bargainmoose forum.