LeapFrog LeapTV just $48 @ Amazon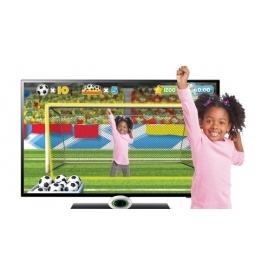 I've come across the LeapTV system at Amazon for 60% off the original $119.99 price - it's just $47.99. I've seen it selling for between $70 and $150 or so elsewhere so the 60% off may sound a little inflated but still a steal for less than $50. And it ships to you for free!
Made for kids between 3 and 8 years old, Leap TV is a video game system made to get them moving while they learn. There are more than 100 games for the system that teach reading, math, science and problem solving. It even includes a multi-player mode so siblings can play together but at their own level.
There's a camera included to capture all body movement while kids spin and jump to get into the action and some games allow them to see themselves on the TV. Then there is a pointer controller and a classic controller for traditional game play.
The box comes with everything you need to hook it up to the TV and get playing and is pre-loaded with the Pet Play World game.
Stock is dwindling at Amazon but they've indicated there is more on the way. Snatch this up at this low price while you can!
(Expires: Unknown)