Jumbo 51 Inflatable Fun Ball—Crawl Inside! $55 + Free Shipping @ Amazon.ca (EXPIRED)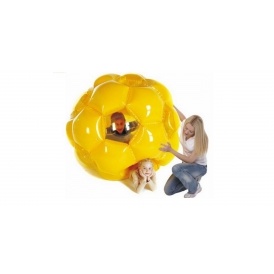 Your kids will (literally) flip for this Jumbo 51 Inflatable Yellow Fun Ball. For $54.95 (you save $15) with free shipping this is hands-down going to be the talk of the neighbourhood. You'll have to ensure that the seller is Jilong to get the cute, fun ball for this low price. If the link gives you trouble for any reason, you can just search for the item and the one on sale will be the first one that comes up.
Kids love rolling around when they play and a huge inflated ball to crawl inside and roll around will be a dizzying but hilarious activity for your kids and a riot to watch. The ball is 51" on each side, that's 4 & 1/4 feet wide! I'm not sure how large of an opening the ball has, but sadly, I know I can't fit inside.
Obviously you would need to keep this ball away from sharp objects, so for those of you who have toddlers who will think it would be fun to put your cat into the ball—not gonna happen.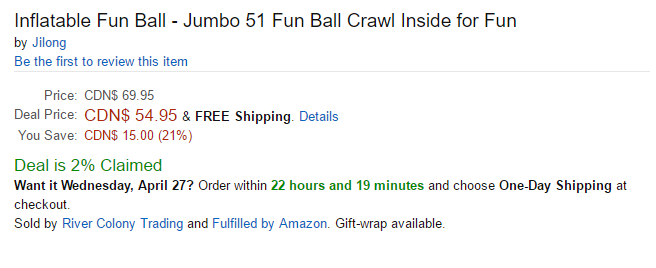 Because this is a lightning deal, it expires within hours, so check it out now if you want to get this giant fun ball for your kids!
Shipping is free on this item, as all orders with eligible items over $25 at Amazon.ca always ship for free.

(Deal Expiry: April 26, 2016, or when this item is 100% sold.)