Intex Jump-O-Lene Boxing Ring Bouncer $50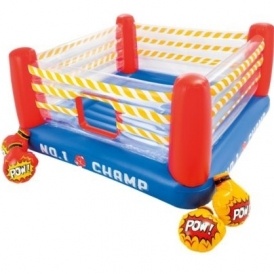 Walmart has just reduced the clearance price of the Intex Jump-O-Lene Boxing Ring Bouncer! It was previously marked down to $75 from $99.98, but now you can get it for $50!!
A boxing ring and bouncy castle all rolled into one, the Intex Jump-O-Lene can be used indoors throughout the winter and then brought outside for spring and summer.
This bouncy house will provide endless hours of fun. Kids crawl through the ring door and can duke it out with the inflatable boxing gloves or enjoy just jumping around. The transparent sides are a great feature too, allowing parents to keep a close eye and play referee whenever needed.
While this probably sounds fantastic (and it is!) I do have some bad news, the weight limit is 123 lbs - 2 children max. So it doesn't look like the grown-ups can get in on the fun.
The Intex Jump-O-Lene Boxing Ring Bouncer is also available at Cabela's but for $69.99.
Shipping from Walmart.ca will be free since this item meets the $50 minimum spend.