Intex Jump-O-Lene Boxing Ring Bouncer $99.98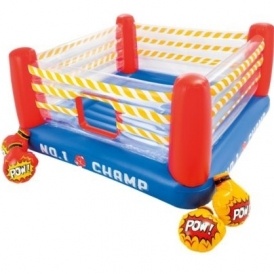 Summer is coming up fast and if you're wondering how you are going to keep the kids entertained for two whole months, well, we may have just found a solution - and it's not nearly as expensive as you might think!
The Intex Jump-O-Lene Boxing Ring Bouncer is just $99.98 at Walmart.ca!
This is like a bouncy castle and boxing ring in one! And it can be used both indoors for rainy days and outside for the sunny ones. Kids crawl through the ring door and can duke it out with the inflatable boxing gloves or enjoy just jumping around. The transparent sides are a great feature too, allowing parents to keep a watchful eye and play referee whenever needed.
I do have some bad news though, the weight limit for this is only 123 lbs - 2 children max. So it doesn't look like the grown-ups can get it on the fun.
The Intex Jump-O-Lene Boxing Ring Bouncer is also available at Cabela's but for $139.99.
Shipping from Walmart.ca will be free since this item is over the $50 minimum spend.
If you like this, you may like these...