Interesting Learning (But Fun!) Baby Toys From $10 @ Chapters Indigo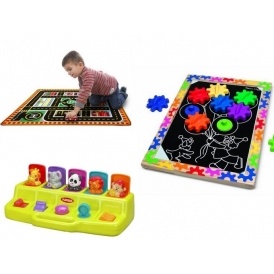 Now that the big kids have gone back to school it's probably a bit more lonely for your baby or toddler. Chapters Indigo has put a great selection of toys for baby on sale for up to 30% off. Many of these toys will help them your baby with their long daily wait for big brother or sister to come home from school.
Gears are fun for all ages including babies and this Switch & Spin Magnetic Gear Board by Melissa & Doug is an excellent toy for promoting all sorts of tough thinking that's fun. Adults will enjoy playing along with their babies, too.
Simply choose a picture template from 10 unique designs and place it in the wooden frame. Then add the gears in the color-coded spaces to turn each picture into an amazing kid-powered machine! Or remove the templates to reveal the white magnetic surface - perfect for an open-ended exploration of simple mechanics, or a range of counting, adding, and problem-solving activities (instructions included). This sturdy, durable gears toy includes a magnetic board with wooden frame, eight magnetic pegs, eight colorful gears, and five double-sided, color-coded design templates. Ages 2+.
The gear board toy is on sale for $15 down from $22.95. You'll want to read the reviews too, this is a must-have toy in the toy box from the sounds of it.
Here's another Indigo Kids playability toy, the Playskool Busy Poppin' Pals. All babies love these pop up toys. Your baby will begin to learn about cause and effect, colours, shapes and different animals. It may seem less 'bells and whistles' than other toys available nowadays but babies really do enjoy the idea of manually making the animals pop out of the box. This toy is on sale for $12.50 down from $24.95.
Little ones usually are desperate to be able to tell time. It's intriguing to them. This Activity Clock from Plan Toys is designed so kids can learn to match the time on the play clock with the activity shown on the card. There are some basic activity cards and 3 blank cards that parents can create with their child, based on different family activities. This toy is a good visual reminder for kids to understand the concept of time, and it can help them to understand that some activities have to be done as a regular routine. The price on this clock is $28 down from $34.95. It's well crafted to last for years.
There is a selection of 2 Melissa & Doug Play Mats for the kids, they are $21 down from $29.95. I can't say enough about these play mats, they work for a lot more than cars. They work for LEGO and shopkins and more. ;)
You'll find a few more toys in this sale and all seem to be related to good old fashioned fun!
Shipping is free on orders over $25 or you can select the free in-store pickup option if you're lucky enough to live near a Chapters. Otherwise, shipping usually starts at around $7.95.