IGN: Modern Combat 4: Zero Hour For iOS For Free (Was $7)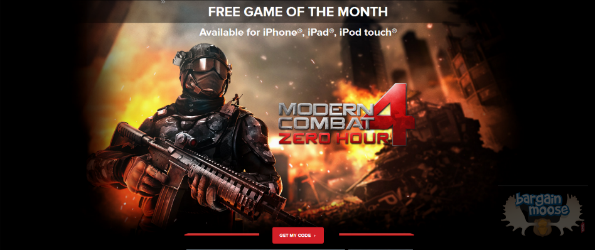 IGN is at it again with another free iOS game! This time it's Modern Combat 4: Zero Hour.
I got into the mobile gaming world probably six years ago when my Dad bought me an iPod Touch for Christmas. It was awesome because now I didn't need to bring a console with me to play games. The games were good back then, but they weren't great. It wasn't exactly a full replacement for my beloved PSP. You could play doodle jump and do crosswords until your thumbs fell off, but you couldn't get a "real" video game experience.
Games like Modern Combat 4: Zero Hour have come much, much closer to replacing a PSP or DS, and for many people it already has. I should mention here that, for me, a cell phone will never replace a hand held console. Unfortunately for Sony and Nintendo, a lot of people disagree. There is no wonder why; this game runs on the Havok Engine! Assassin's Creed uses the Havok Engine. Just take a look at this game's trailer and you'll see what I mean.
Did you watch it yet? Good. See what I mean? Pretty intense, right?
You can get this wonder on your iPhone, iPod Touch and iPad for free from IGN all month! It's normally $6.99.
(Expires: 31st January 2014)