Humble Bundle: Pay What You Want For Games, Software & Books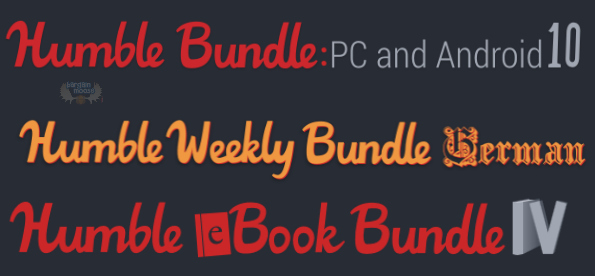 Most of you have heard of the Humble Bundle: it is a bundle of games that you "pay what you want" for. Usually the base tier you can throw as little as $1 at and get several games. There is also at-least another tier above that, that gets unlocked when you donate certain amounts of money. Usually the minimums are ridiculously low and you are getting way beyond what you paid for.
What makes the Humble Bundle great beyond a deal-hunter's perspective is that part of the money goes to the developers and part goes to charity. When you buy your Humble Bundle, you get to choose what the split is. Do you want all your money going to charity? How about a 50/50 split?
Now, you may be saying I totally know all of this already so why are we revisiting this? I am here to tell you that the humble Humble Bundle has expanded. No longer is it just a simple bundle of games you can pick up on the cheap, there is now three separate humble bundles you can acquire at the same time.
This is the original Humble Bundle: a two-tier bundle made up of loosely knit together games. Pay what you want for the first tier of games (minimum $1 if you want to redeem on Steam). You can unlock the second tier by paying over the current average price that people are paying for the bundle. This week you can get Symphony, Draw a Stickman: EPIC, and Galcon: Legends for whatever you want to throw at it. Unlock seven more games when you pay over the average donation amount (currently at $4.91). The total bundle value is $164.
The Humble Weekly Bundle operates on a three-tier system most the time and is themed by country, title, developer, theme, etc. This week's theme is German developers. The base tier is pay what you want, the second tier is either pay more than the current average price or can be pay more than a set price. The third tier is always a set price. This week you will get seven games when you pay whatever you want, an extra three games when you pay above the current going rate 9currently $3.65), and the top tier games are unlocked when you pay $9 or more. The total bundle value is $174.
The Humble Book Bundle is a new development. It is just like the weekly bundle, just with books. For avid book lovers, this bundle is a god-sent. Currently you can pay what you want for three books, get another eight books when you pay the going rate or higher (currently $9.68) and then you unlock the upper tier two books when you pay $10 or more. I have to say Lovecraft's Monsters: Anthology looks tempting. The total bundle value is $76.
(Expiry: varies)