Hot! Little Tikes Kitchen Was $50 Now $30 & Free Shipping @ Walmart.ca! (EXPIRED)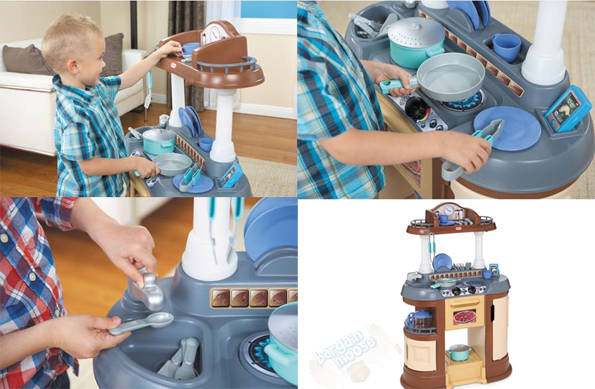 Wow! If you want a play kitchen for your kid, this is a hot deal! Right now Walmart has a Little Tikes Kids Kitchen in neutral colours for only $30 with free shipping.
Looking around the web this is an amazing deal for a small kitchen set for your kid. This kitchen set is in neutral colours. It has over 25 accessories including:
Play smart phone
Fridge and oven that open
Extra storage area cabinet
Clicking knobs
Pretend sink
Multiple plates, silverware, a pot and a few other cooking accessories
It does not include play food but that is easy enough to find on the cheap. Kids also turn everything into pretend food easily. I think every toy my kid has owned has found its way into the toy fridge, oven or stove.
This is not a fancy kid's kitchen. Here is a secret though- your kid probably does not care how fancy their play kitchen is. They are happy to play kitchen and even happier if they can feed you pretend strawberry cake with salami on top. You can be happy saving a little money in your pocket and eating pretend strawberry cake. Maybe buy them a few pieces of play food to go with it. Unless you are looking for one of the larger monster sized kitchens, this one will do the trick for most kids.
There is not much selection for kitchens in this price. Most of the kitchen play sets easily start at $70 and go up to well over $200. Amazon has a similar kitchen that is a Little Tikes BBQ Grill themed cook set for $54.99 with free shipping. It only comes with 7 little food and plate accessories which isn't very many for imaginative play.
Sears has a Hello Kitty Classic Kitchen play set for $52.49  that has the moving sink and oven but does not come with accessories. This kitchen is pink from head to toe which often means your living room most likely is now pink from head to toe unless you are lucky enough to have a playroom. It does have the advantage of being wood and ultimately more durable. On the downside, if your kid doesn't like Hello Kitty, it's not for you.
No reviews are available on this product and it seems only Walmart sells it. I would take a chance on it for my kid. Most of the kitchen sets that are similarly priced seem to have very specific themes like I featured above. Open-ended play without a theme is a great place to start to see how much it's played with, then look at the monster size kitchens if your kid is a cooking fanatic.
(Expiry: unknown)