Half-Price LEGO @ Toys R Us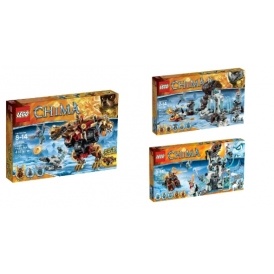 Toys R Us has a couple more great half-price deals this weekend. Through Sunday, they've got select LEGO Chima sets for 50% off.
Regularly $74.99, the LEGO Chima Mammoth's Frozen Stronghold is on sale for just $37.47. In order to rescue Rinona, this set includes:
a mammoth-head-shaped control centre
movable tusks and adjustable trunk with 2 stud shooters
Mammoth Tusk Flipper vehicle launch function
turret with rotating disc shooter and ammunition depot with extra discs for the disc shooter
frozen prison turret
blacksmith area with hammer and anvil
CHI crystal elements
The LEGO Chima Bladvic's Rumble Bear set is usually $49.99 but has been marked down to $24.97. Help Bladvic recover the stolen CHI with his fire harness and wings and give chase on the Rumble Bear. The set includes three figures and assorted weapons.
Also on sale, just not marked down by nearly as much, is the LEGO Chima Sir Fangars Ice Fortress set. Regularly $89.99, it's down to $62.98 - about 30%. It includes five figures with weapons in order to battle your way into Sir Fangars Fortress and recover the stolen CHI!
You'll receive free shipping (or a credit of $10 towards it) on orders of $49 or more!

(Expires: 13th March 2016)