Half Price Kid's Snowsuits & Free Shipping @ Clement Canada! (Prices from $57)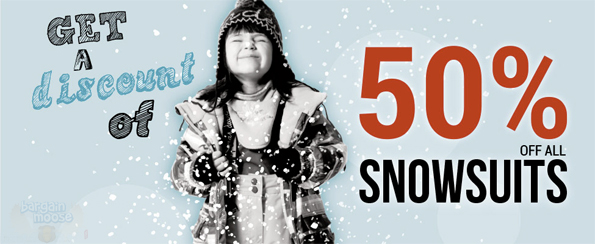 Have you heard of the Quebec based boutique, Clément.ca? I hadn't heard of them until earlier, when I spotted that Kristy popped this deal up in our forums. I had a browse of the site and it looked great for kid's clothing, so I thought I'd blog it up and share the love. Right now, Clément Canada is offering a 50% discount on all snowsuits, plus there is a bonus coupon code if you sign up to their newsletter – you should also be able to score free shipping on your order!
While Clément offer a free collect-at-store service, this is only useful to the Moosers in Quebec. To get free shipping on a $50 spend from Clément.ca, simply sign up to their email newsletters. I did that this morning, and I instantly received a unique free shipping coupon code in my email inbox. The code they sent me was INFOLETTRE-610WTE – I am assuming this is one time use only though, it doesn't look like a code that everyone can use. If you make use of it, do let us know in the comments below.
Snowsuit prices start at only $57, so that means all snowsuits are going to come with free shipping to your home if you use the coupon code method mentioned above. However, sizing looks a little limited. E.g. The Gusti snowsuit in colour block or in camouflage red is $57 but it is only available in size 2 just now. But you can have a browse around and see if there are any more deals which will fit your kids as they grow. Check out these bargains:
Now, while the above snowsuits say "boys" on them, I don't agree with this. They're suitable for any gender! While my little four year old daughter happens to have bright pink snow trousers, I'd much prefer gender neutral ones… or even ones covered in dinosaurs, or something like that.
For a general price comparison of snowsuits elsewhere, it's difficult to compare the prices above as it costs different amounts for each different brand. Also, some of the brands such as Blanc de Blanc, appear to be exclusive to Clément too.
When I added a snowsuit to my shopping cart, I also got a popup offer for personalised iron-on clothing labels. Clément are offering a set of 100 personalised labels for only $13 with free shipping. That's pretty reasonable and could come in handy for labelling your kid's items for school. To price compare, a basic 100 label pack from popular label store Mabel's Labels would cost you $19, and you only get 40 for that price. The label deal from Clément.ca sounds good too!
(Expiry: Unknown)