Gymboree's Biggest Sale of the Season: Save Up to 60%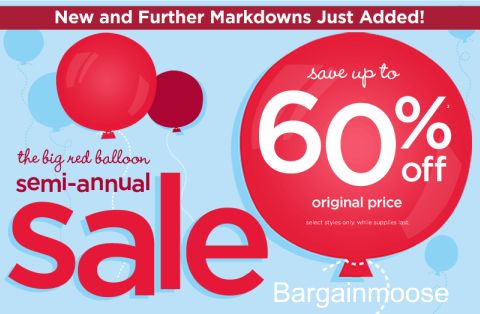 Gymboree is having their biggest sale of the year. You can save up to 60% off the original price on select styles.  If you have an extra 20% off coupon kicking around, this would be a great time to use it in-store to make this sale even better.
You still have until the 9th of January 2011 to take advantage of the Gymbucks promotion too. Spend $50 and get $25 back in Gymbucks to be redeemed Jan 13-23,2011.
My Gymboree-loving friends have been going crazy at this sale! I'm lucky to have a generous friend that keeps my girl outfitted in Gymboree hand me downs.  But I think I'll take advantage of this sale to pick up some baby gifts!
This adorable Monkey Hooded Velour One-Piece and Monkey Sweater Hat will look so cute on the newest little baby boy that I know! Shipping to Canada runs at $8.95 ($0-$75.00), $10.95 ($75.01- $125.00), $13.95 ($125.01 - $175.00), $15.95 ($175.01 - $225) and up. Shipping Terms: "All applicable duties, taxes, and/or brokerage fees will be charged by the carrier to the recipient at time of delivery."

If you are ordering from gymboree.com or any other website that ships from the US, you might want to check out the website, The Final Cost.  This handy site has an online calculator to help you estimate the duties, taxes and brokerage fees that you might be charged when ordering items from the United States and having your order shipped into Canada. For each order you are asked to submit the price, cost of shipping, whether the item is made in the USA, the shipping company and the province the order is being shipped to. The calculator computes the currency exchange rate, duty, tax, conversion, brokerage and disbursement.
So, for the 2 baby boy items listed above, the subtotal was $30.98.  After I submitted all of the info to The Final Cost, my total was estimated to be $57.66! Maybe not such a bargain after all.