Gund Grumpy Cat Plush Figure Now $16 (Was $26) @ Amazon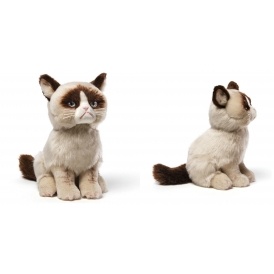 Remember grumpy cat, the internet sensation? Well they've made a plush figure inspired by the cat, and now it's on sale at Amazon. It was originally $26.39 and is now just $16.14. Why buy a boring old teddy bear when you can get this super cranky, unhappy cat? I can just imagine my toddler squeezing this cat and smiling while the cat remains...well, grumpy. I'd even consider buying this toy for all my cat lady friends. I know you guys have a few too!

How hilarious was the original Grumpy Cat? Amazon states that Grumpy Cat has 3 million Facebook fans and counting! I wouldn't doubt that for a second, I remember the cat being plastered all over my news feed.
I love buying quirky toys for my son, and I'd definitely purchase this Grumpy Cat, even if it was just for fun. The website states that the plush is a realistic, high-quality replica of the cat so it could be a fun plush animal for your child.

This Grumpy Cat is shipped and sold from Amazon, so if you order for more than $25, shipping will be free! If not, your shipping will be calculated in cart.
(Expiry: Unknown)