GuildWars2.com: 50% Off Digital Heroic & Digital Deluxe Editions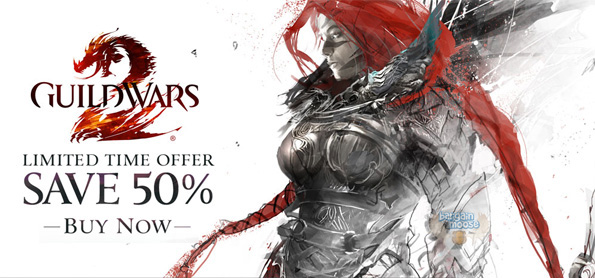 Guild Wars 2 may have been out for almost two years now (it was released in August 2012) but it's still as fun as ever, if not better considering the frequent updates it receives, and for a limited time only, you can save 50% on the purchase of either the digital Heroic edition or the digital Deluxe edition.
For any of you moosers who have played or still play World of Warcraft, then Guild Wars 2 will definitely be right up your alley with its MMORPG style.
Usually priced as high as $49.99, the heroic edition of the game can be had for just $24.99 and also includes the following bonuses: Suit of Legacy armor, Mithril box to make your inventory bigger and 10 experience boosters, which increase XP from kills by 50% for an hour.
For $10 more, you can get the digital deluxe edition instead at just $34.99 (reg. $69.99) and on top of including everything heroic edition offers, it will also give you perks like a temporary pet (Mistfire Wolf), a minituare Rytlock, your very own golem banker to summon anywhere you want, a Chalice of Glocy for extra Rank points and a Tome of Influence to be used for your guild.
Admittedly, I have never played Guild Wars but I have, however, played WoW and this game definitely sounds very similar to it, especially since you progress by killing mobs, earning achievements, etc. On the plus side, there is also no monthly subscription fee to pay, which means that you only have to buy the game once and then you can enjoy it nearly forever (or for as long as updates are being rolled out).
Prices are in USD but from my experience in purchasing games in US currency, the charge on your credit card will automatically be converted into Canadian dollars depending on the value of the dollar.
Have you ever played Guild Wars or have you been wanting to?
(Expiry: 13th April 2014)