Green Man Gaming: 2K Multibuy Deal – Get Up To 5 PC Games For $30 (Expired)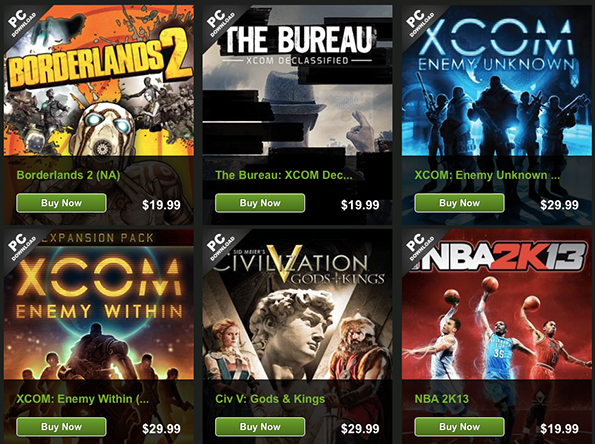 Looking to save big on some hot video game titles? I know I am, now that I'm looking for a new virtual challenge to sink my teeth into – after all, 2K Games makes some of the most popular sports, strategy, and action titles out there! 2K Games is also responsible for established franchises such as Borderlands, Bioshock, and Civilization (you may remember playing the original on your mom's old 386 computer). Well 2K Games fans, today's deal from Green Man Gaming will certainly put a smile on your face – their current promotion is for a 2K multibuy deal, where you can choose from a selection of games and save some of your hard earned cash!
Here's how the 2K multibuy deal works:
• Choose three selected PC titles for $24
• Choose four selected PC titles for $28
• Choose five selected PC titles for $30
With this 2K multibuy deal that's being offered, you can choose from a decent selection of popular titles, such as Borderlands 2 (normally $19.99 on Gamefly), Civilization V: Gods & Kings (regular price is $29.99 on Gamefly), and Mafia II (normally $29.99 on Steam). To check out the full list of games available, click here.
I like the fact that the games in this sale are direct downloads. Just remember that rather than waiting for your item to ship, you'll be able to enjoy your games within hours! The five games for $30 is the best value that you can get for this sale – even if you end up selecting the critically panned and massively disappointing Duke Nukem Forever (the game was in development limbo for nearly a decade, and it probably should have stayed there). All joking aside, there are some great games here that you should definitely try out at least once.
For example, here are some short reviews about Borderlands 2:
"Prepare to level. Prepare to loot. Prepare to get lost in the hilarious, bizarre and wonderful world of Pandora."
9/10 – IGN
"Borderlands 2 stands out as Gearbox's magnum opus, and one of the most memorable and fun gaming rides I've ever been on."
4.5/5 – GameSpy
If you're a fan of 2K Games and love your PC, then I'd highly recommend that you download these games before the promotion pulls a Houdini and disappears! Happy gaming, Bargainmoosers!
(Expiry Date: Unknown)