Game on! SELF-TYING balloons for your next water balloon fight! $8.99 @ Amazon.ca Marketplace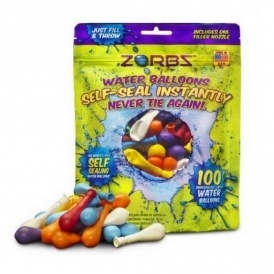 This summer, you can forget about the painful twisting cramps in your fingers and hands as you attempt to show your child how to tie water balloons for a huge family water balloon fight in the backyard. Now your kids will even be able to fill and tie these balloons by themselves!
These unique water balloons have a hose attachment that you can use to fill them quickly. When you are done filling the balloon, all you have to do is tug firmly on the end. It has a patented snap and seal action, so the balloon will seal automatically! The balloons sell for $8.99 for a pack of 100. (Please make sure you keep these away from small children & family pets, balloons can be very dangerous if ingested!)

Zobz water balloons are being sold by Seller Zorbz 100 on Amazon.ca Marketplace. Amazon.ca fulfills the order, which means your order will ship right from the Amazon.ca warehouse, for the usual speedy delivery that you are accustomed to!
Shipping is free if you spend over $25 on eligible products at Amazon, otherwise, will start at a reasonable $4.25 and up.
(Deal expiry: Unknown)