Fisher-Price Think & Learn Smart Cycle $134.99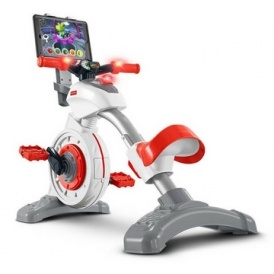 This is one of those toys I'm sure the kids would love to find under the tree this year! The Fisher-Price Think & Learn Smart Cycle is on sale now at Amazon.ca for $134.99 shipped, down from $169.99!
Essentially, this bike lets your kids play video games on a tablet or TV – but they need to pedal to keep going! All you need to do is download the free Smart Cycle Mission to Tech City app to play racing and learning games.
The more they pedal, the more they can learn! The bike even has movable, steering handlebars with input controls and a joystick to give your kiddos even more control of the games!
A Best Buy Canada blog post calls it "a great way to give your toddler some screen time, while also putting a focus on keeping both their minds and bodies active," and I definitely agree! Your kids are probably going to want (and need) some screen time anyway – why not let them get a little exercise while they do?
The Think & Learn Smart Cycle is not Amazon Prime eligible, but it will ship for free from Amazon.ca.