EB Games: South Park Stick of Truth $9.99 TODAY (EXPIRED)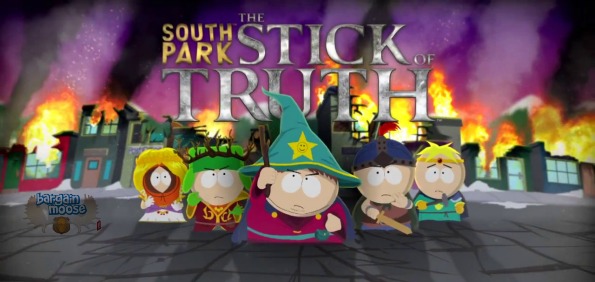 Today only, EB Games is selling South Park: The Stick of Truth for only $9.99 (down from $29.99) for the PS3 and Xbox 360.
A quick price comparison shows how much other companies are selling this South Park game for:
$29.99 (Xbox 360) @ Amazon.ca
$31.99 (PS3) @ Amazon.ca
$24.96 (Xbox) @ Walmart.ca
$19.99 (PS3) @ Walmart.ca (OOS)
$29.99 (both) @ Best Buy Canada
$29.99 (both) @ Future Shop Canada
Future Shop is also offering used copies for $24.99. Thus, this sale of brand new South Park: The Stick of Truth games for just $9.99 each is a wicked deal. The closest price to that: Walmart's PS3 version is double the price and already sold out.
South Park is not really my thing so I cannot tell you much about other than what I have researched. it is an epic quest style game where you recruit your friends to help out and can arm yourself to the hilt with awesome weapons. Trey Parker and Matt Stone, familiar names to any South Park fans, voice the game.
The game tends to rate fairly well, with the PS3 version a 3.73/5 on EB games and the Xbox 360 version a 3.86/5. One reviewer on Amazon says:
If you are a true South Park fan, this game is EPIC. Almost every character and major episode reference is in here. The gameplay is a highly simplistic fighting model, but to be honest I was much more interested in simply exploring the town of South Park and it's very interactive environment, coming across all of the different characters and seeing where both the main storyline and side mission stories went.
There is a lot more to his review and many others, and it is mostly singing the praises of the game. The only real critics I see are those who think the game is a bit expensive, or from those who are not South Park fans. I honestly do not see why you would buy a game built around South park if you did not actually like or watch South Park. That is somewhat weird.
Now, you are probably wondering about shipping. Well, you can get this lovely game shipped to your local store free. I live about a five-minute drive from an EB Games so this is my first choice. Standard shipping costs $4.99 or is free on orders of $25.
(Expiry: 20th December 2014)