East Side Marios Kid's Eat Free for March Break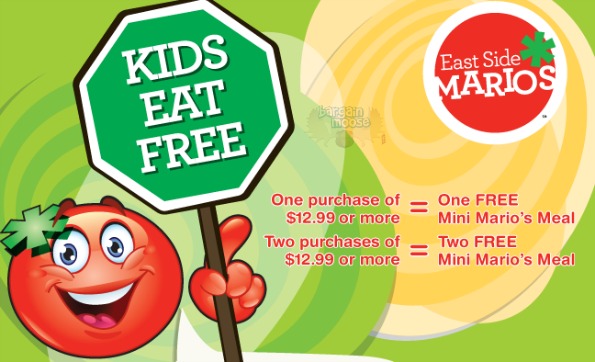 You can find deals all over the country but Ontario seems to get a few extra that the rest of us don't get.  East Side Mario's has a great deal for all of their locations in Ontario.  In honour of spring break, kids will eat free at East Side Mario's when they are accompanied by an adult.
Basically the way to get your kids a free meal is to head into a participating East Side Marios and order a meal.  Your child's meal will be free with your purchase. This deal is valid for kids 10 years of age and younger and not valid for groups with 10 or more kids.
Here is the breakdown of the free meals:
One purchase of $12.99 or more = One free Mini Mario's Meal
Two purchases of $12.99 or more = Two free Mini Mario's Meal
Now even though this deal is just currently in Ontario, I seem to remember it in Alberta and other provinces last year.  Since each province has a different spring break (Ontario's being right now), I suspect that we may be able to get this deal soon in the other provinces. The Alberta spring break isn't for a few weeks so I will be keeping my eye open for this deal here.
(Expiry: 23rd March 2014)