DohVinci Flower Tower Picture Frame Kit was $15 now $7 @ Walmart.ca!! * QUICK * (EXPIRED)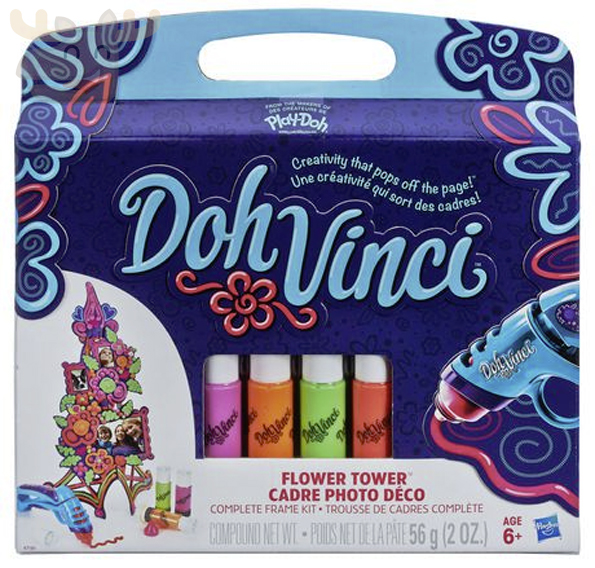 *** BUMP - back in stock, get it quick! ***
In the ongoing toy clearance sales online at Walmart Canada, there are many high discounts on some top toy brands. Yesterday, we saw great deals on Barbies and LEGO, and today, we're going to be hunting down a few more bargains for you. I've spotted a superb price on this Play-Doh DohVinci Flower Tower Picture Frame Kit. It was originally $14.94 but it's only $7 from Walmart just now!
I have three words to say to you about this deal – BUY IT FAST. The online status at Walmart says "limited stock online" so this means it is going to sell out rather fast.
It's an absolutely excellent price – I can see that this toy is for sale at a number of other top retailers in Canada, and it's around the $15 to $17 mark at all of them. The $7 price point from Walmart is fantastic.
Age Rating = 6+
Now on a lot of toys, I don't really pay attention to the age rating, as I would play with my daughters and help them along. However, I have a personal comment about the age rating on this toy. My daughter received another item in the Dohvinci range for her 5th birthday and she tried it out a few months ago. She found it very difficult – she didn't quite have the fine motor control that this toy needed. As a result, she didn't really enjoy it and the art set is now sitting at the bottom of the toy cupboard. If you're gifting this to a young one, I would recommend that they be 6 years or older.
What About Shipping?
If you buy this item on its own from Walmart.ca and you want it shipped to your home, you'd have to pay an extra shipping fee. However, if you bring your order up to $50, then you will get free shipping. Alternatively, order the DohVinci Flower Tower on its own and you can collect it for free, from a local Canada Post location – this could be the most wallet-friendly option!
P.S. This is an excellent deal to grab now and keep in your present cupboard for future gifting.
(Expires: unknown)