Disney Frozen Royal Colour Change Anna Was $28 | Now $12.75 @ Amazon Canada (EXPIRED)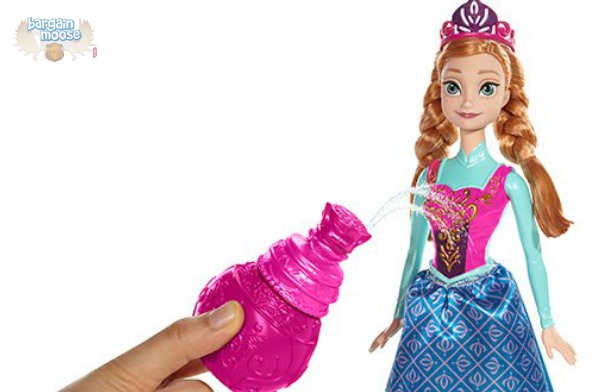 Frozen fans will be pleased with Amazon's deal today on the Disney Frozen Royal Color Change Anna. Regularly $27.99, it is now on sale for $12.75.
While the Frozen fever may have settled just a little bit, I know many little girls who are still belting out "the cold never bothered me anyway" and would love to get another Anna or Elsa doll to their collection. Personally, I wouldn't pay $30 for any doll, but I would definitely pay less than $15.
This doll is pretty cool too, because she changes colour, depending on if she is hot or cold, just like in the movie. The included perfume bottle can be filled with water and sprayed on Anna to make her cold, where she will change colour.
There are only two reviews on Amazon and both weren't too impressed with this doll. One stated that she wanted this Frozen scene over with, but really does it matter what the parent wants when it comes to toys? I remember having an obsession with a popular toy or two as a kid and my parents just had to succumb to the fact that that was the only toy I wanted.
Toys R Us is selling the Royal Color Change Elsa for $29.99. Walmart is selling Anna for $24.86. Those are the only stores where I found this doll.
Shipping is not going to be free unless you add an item or two to your cart to get the total up to $25. I did find a few other Frozen dolls also on sale. The styling doll head Elsa looks super fun and is something she might continue to play with after the Frozen frenzy is over. Regularly $34.99, it is selling for $20.25. This would also make the perfect gift for a birthday party. I found this styling head selling from $25 to $45 at other Canadian retailers.
(Expiry: Unknown)