Crayola Sketch Wizard $9.75 @ Amazon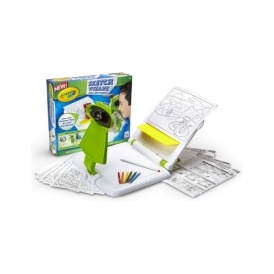 The Crayola Sketch Wizard sells for $27.99 at every retailer—except Amazon! Right now you can grab one for just $9.75!
Recommended for kids ages 8-12, the Crayola Sketch Wizard lets them draw exactly what they see. The Sketch Wizard works by reflecting images, 3D objects (action figures, dolls, even people!) and even images from your phone or tablet, so they're easy for kids to trace. They just sketch and then colour!
Included with the kit are:
1 fold-up Sketch Wizard unit
6 short Crayola coloured pencils
1 graphite pencil
5 starter sheets
5 blank sheets
The Sketch Wizard unit folds up for easy portability and storage.
What a great surprise for any budding artist that loves to draw. At this price, how can you go wrong?
You'll want to top up your order to $25 to get free shipping if you're not a Prime member. Or buy a couple to stash away for upcoming birthday party gifts!
(Expires: Unknown)