Costco Canada: Get $200 Off Cedar Summit Mountainview Play Set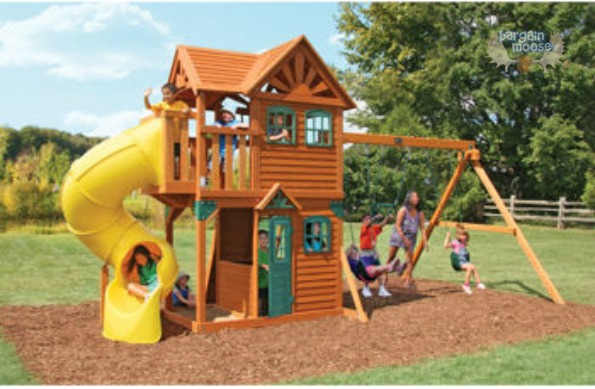 Just in time for Spring, Costco Canada is offering $200 off the Cedar Summit Mountainview play set, now only $1,199, including delivery.
You know Spring and Summer are coming when you walk into Costco and see their giant play set display. Every year I am tempted to get it, but my husband balks. This year I am in "convince him" mode. We spend a lot of time at home in the Summer, and the kids get very bored with what we have in our backyard. They love to go to the neighbours and play on their Costco Play Set. This is a great deal from Costco, because if you buy online, you don't even need to rent a truck to bring it home. You don't have to lug it through the store, jabbing people in the legs and running over small children. You do have to set it up, which isn't always the most fun, but I'm sure your children will be so grateful, they will bring you cold drinks on demand.
Every time your child plays on the Mountainview Retreat by Cedar Summit Premium Play Sets the door to imagination and creativity is opened. Cedar Summit understands that children need a safe environment to play, explore adventurous possibilities and enjoy endless hours of fun. Craftsmanship and devotion to detail are the hallmarks of the company. Using premium Cedar (Cunninghamia Lanceolata) lumber, the skills and dedication of associates who produce these elite play sets are bolstered by a commitment to providing innovative designs and features.
This set has all of the most awesome features like:
Side by side access ladder and rockwall with climbing rope
Climbing rock wall
Lower cabin with working door access and two windows
Upper clubhouse package with two front picture windows and two back picture windows
Crows nest
Twist N' Ride tube slide
Acrobatic swing with hand grips
Two belt swings
The set is made from natural cedar lumber, which lasts for quite a long time and looks the best. There is no cutting required and there is a 10-year warranty on the set. Your kids will be very happy!
(Expiry: 17th March 2013)