Chicco TravelSeat Hook On Chair Valued Now $60 @ Bed, Bath & Beyond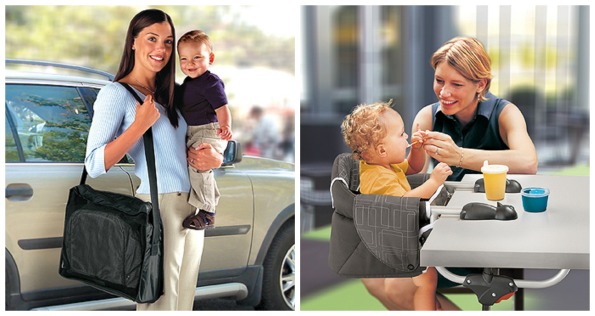 One more round of applause for Bed Bath and Beyond for bringing us another great sale today. This useful and space efficient Chicco TravelSeat Hook On Chair was originally $64.99 and now on for only $59.99. However, after doing some price comparing to see how other websites and store priced it, this item regularly retails around $80. It is a very popular item that does not come on sale too often! The seat picture above is the same model, but isn't the same color as the one on sale. It is a different shade of grey, check it out below!
The easily portable TravelSeat comes with it's own carrying bag, so it's easy to transport and store the chair while traveling. The hook on chair is exactly the kind of thing that makes the top of my list when it comes to helping parents out.
Taking your child out on an adventure always sounds like a great plan, but when it means having to carry around a big bulky chair or booster seat, it becomes more of a hassle than anything. With this product, you'll never have to worry about that again. With this easy set up, you won't have to think twice about restaurants, food courts, or even picnic tables.
Shipping on this item depends on the total price of your purchase, but for this item alone, shipping is $7.99.
(Expiry: Unknown)