Chapters Indigo Canada: Bento Buddies Were $20 | Now $10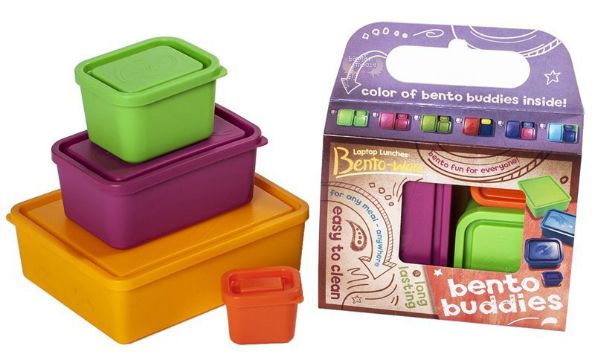 Back to school is such a funny time of year. This morning I watched the teeny tiniest little girl crying trying to find her class and I watched mothers of JKs with seriously worried, on the brink of tears looks on their face leaving the school after drop-off. Something so regular as back to school is probably one of the most stressful times of the year for everyone. Besides the "I don't want to go back to school" whining I've heard for the last six weeks, getting my kid's lunches ready is my hugest back to school stressor. Don't you agree Bargainmoosers? One of the problems is that in making lunches, I can never find the right containers! The lid is lost or the container is too small or they leak. I've gotten to the point where I buy multiple styles of different containers. While I've already got everything I think I need for this year's lunches, today's deal at Chapters Indigo is too good to pass up. They've got Bento Buddies on sale from $20, down to $10.
Recently I wrote an article asking if you really need that Planetbox, and one of the lunch containers I suggested was Bentology, or otherwise known as Laptop Lunches. These containers fit inside your Laptop Lunch container.While you don't need to have a Bentology container to use them, if you do have one, it is great to have extras for those days when you didn't get to the dishes or when your child comes home sans one of the containers.
Basically, you'll get four containers in varying colours that are BPA and phthalate free and that have leakproof lids. I like that each container is a different size, because when it comes to lunches, one size does not fit all!
You can get the blue mix or the garden. Both would be great for boys or girls.
The reviews are great on these including:
They really are leak proof, and they hold up to the rough use of my nephews when I pack snacks for them. I also love that I can put them directly in the microwave if I want to heat up my lunch. Less dishes to wash!
Searching around at other stores, I found these priced at $18 at Fenigo, $20 at By Nature, and $16 to $30 at Amazon.
Because Chapters Indigo has free shipping at $25, I want to suggest something else really cool that I saw and want to get for my kids. Lately my son has been coming home from school sad as he hasn't made many friends and find the work hard. I thought it would be a great idea to put an inspirational note in his lunch to cheer him up mid-day. Well, Chapters Indigo must have the same ideas, because this lunch mail that was $8.50 and now $6 is super cute! They've got cats and dogs, girls and superheroes.
Last, I wanted to tell you that Chapters Indigo has 10x the Plum Points when you spend over $30 this weekend and there is a coupon out there for $5 off $50.
(Expiry: Unknown)