Chapters Indigo: 50% Off Silverlit Smart Link Ferrari Enzo 1:50 (iPhone Compatible) - Now Just $15 (EXPIRED)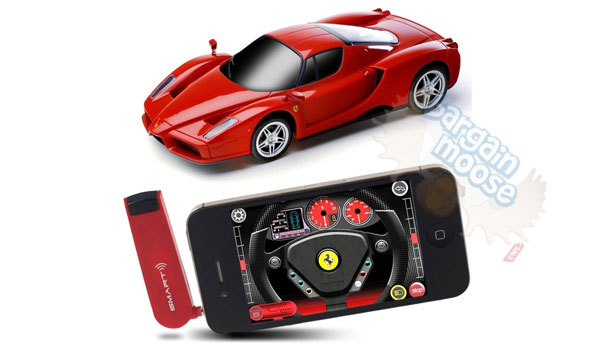 Vroom vroom, how cool would it be to own your very own Ferrari car for just $15? Granted it's a remote-controlled toy car but still -- very cool! :P Originally priced at $30, Chapters Indigo has now discounted the Silverlit Smart Link Ferarri Enzo 1:50 by a whopping 50% and it can now be yours for just $15.
Got an iPhone? Perfect, because you're going to need it to operate this toy car. By downloading the Silvertlit Smart Link RC Ferrari remote control app, you will be able to turn your iPhone into a... you guessed it, remote control to operate the toy car. Judging by the picture, it looks like you would also need to plug in the special device into your iPhone in order for it to sync to the toy car, but that's something you would need to read more about in the information booklet (assuming it comes with one).
What's cool is that on top of being able to tap buttons through the app to make the car go faster and other cool features, you can also tilt your phone left and right to steer. Plus, the phone's vibrations will make it seem like you're actually driving a Ferrari -- okay not quite, but one can dream!
Chapters Indigo accurately placed a "5-adult" age tag on this car since as much as it's of course perfect for kids, I personally know quite a few of "adults" who would want to play with this car. :P
There is no expiry date on this offer as it's "while supplies last", so it might sell out quick, just as it might not. So if you're interested in this promotion or know someone who might be, then don't wait to get it!
Shipping is only free on orders over $25. Since you would need an additional $10 for your order to qualify, have a look at the other two Chapters Indigo offers that Avigayil and Eva posted yesterday. The first is for 66% off shadow elephant baby blankets (now just $10) and the other is for $85 Le Creuset kettles (was $100).
(Expiry: Unknown)