Chapters Indigo: 15% Off Regular Priced Items Weekend Coupon & 10% Off Visa Checkout - Stack!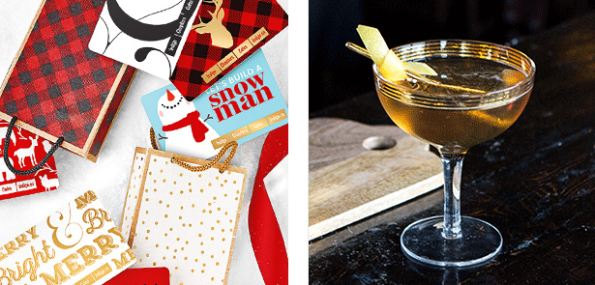 Two discounts collide on today of all days. Chapters Indigo has reintroduced their 15% off regular-priced items on weekends coupon code and the Visa Checkout promo for an extra 10% off is still valid today. Therefore, you can save nearly 25% on regular-priced items when you combine the two discounts. The 15% off weekend coupon code will be valid for many more months, but only today will it combine with the Visa Checkout offer. Receive free shipping on $25.
Click here to shop @ Chapters Indigo Canada now
Coupon Code: PROMO15
Discount: 15% off on Sat & Sun
Expiry: Unknown
The coupon code will only work on weekends - Saturday and Sunday - while it is valid. It can be used to take 15% off regular-priced new arrivals in categories such as toys, decor, fashion, baby, and more. The coupon does exclude all books and electronics.
I tested this combination of deals in a rather popular toy: Shopkins. The Shopkins Series 4 - 12 Pack costs $12.95, but the combination of coupon and Visa Checkout promotions bring that cost down to just $9.91. You can see them combining at the last stage of checkout: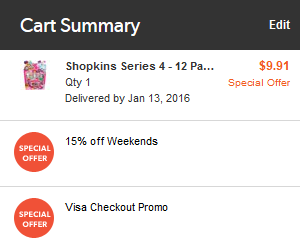 LEGO is excluded from both the coupon and the Visa Checkout offer, as is American Girl. There might be a few more exclusions that they would be few and far between: most is smooth sailing. Just pick the full-priced items you want, apply the coupon, and then checkout using Visa Checkout. This is a one-day combination of deals - get it now!
I am always looking for new and better pencils for colouring in my adult colouring books. A cousin of mine has these Coloured Pencils - Set of 24 from Indigo and they looked really good. The set of pencils usually costs $16 and they have never gone on sale while I have been watching them. Apply the coupon and they come down to $13.60. Use Visa Checkout, and they come further down to just $12.24.
Nerf is another super popular toy. I was trying to find a great Star Wars toy when I ran across this Nerf Star Wars Episode VII: Chewbacca Bowcaster currently $29.95. I thought it was a great toy as it mixes the ever-popular Nerf dart guns with Star Wars action. After coupon, it comes down to $25.46. The Visa Checkout discount brings it further down to $22.91.
I still collect Jellycat plush thought I have substantially reduced my collection. This Bashful Candy-Cane Bunny (Small) is such a cute little bunny with little striped candy-cane ears. Originally $15, she comes down to $12.75 after coupon. After final Visa Checkout discount, she is only $11.48.