Chapters Canada: Free Sunny Patch Umbrella with $25 Purchase ($10 Value)

Purchase $25 or more worth of Sunny Patch merchandise at Chapters Indigo Canada to receive a free Sunny Patch umbrella valued at $9.95.
Your order will also qualify for free shipping as the minimum required, $25, is also the minimum for free shipping.
Melissa & Doug make Sunny Patch toys. They are the cutest animal and flower themed toys that are perfect for your child's backyard or front yard play. Let your child help you 'mow the lawn' with this Tootle Turtle Mower for $39.95. Receive a free umbrella with your purchase.
If course, the best deal is going to be when you just reach $25, so the $10 umbrella is worth a higher percentage of your order. This Happy Giddy Bowling Set is just perfect for that! The set includes six bowling pins and a bowling ball for little hands. I rather like the bowling pins in this set - they look like cute little aliens. The set costs $26.95 so the umbrella is free when you purchase just this set.
To receive your free umbrella, choose from one of the following designs and add it to your cart. There are two designs to choose from:
I think the Happy Giddy umbrella is the cutest thing ever. I also really like green. Add one of these umbrellas to your cart with a valid order to receive the umbrella free. Your cart should look something like this: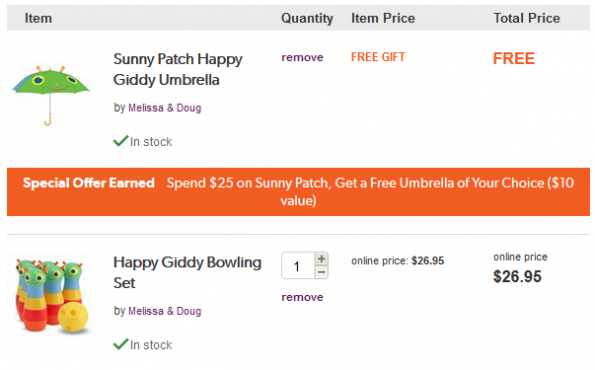 There are plenty other cute toys to purchase. I just chose toys that were already above the $25 minimum, but you can combine toys to reach that minimum. Add the Sunny Patch Firefly Pail (Indigo Exclusive) to your cart for just $11.95. Then, choose from a myriad of other toys like this Froggy Kickball for $13.95. Together, these two toys come to $25.90. That is enough for your free umbrella. The froggy kickball looks really cool and would certainly be fun to play with. However, it might be a bit hard to see in green grass! Then you can have a game of 'find the kickball'.
I think this is a great deal because the minimum is only $25 for a $10 freebie. That is good value for your money overall.
(Expiry: 30th April 2015)