Cents of Style (U.S.) Promo Code: Unique Graphic Tees Were $35 | Now $15 + Shipping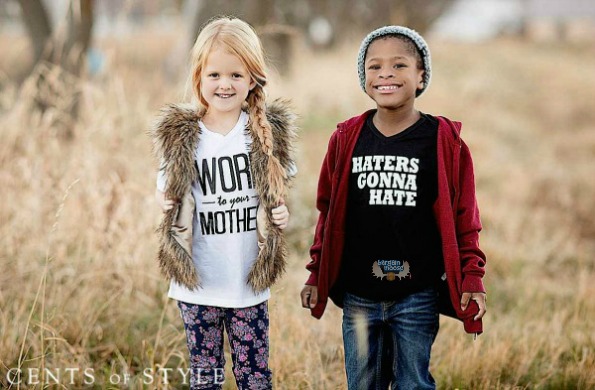 I've blogged before about Cents of Style, a U.S.-based store with unique style items. They ship to Canada for only $5, no matter the cost of your order. You are responsible for duties at the door, but you with this sale, you can keep your order under $20 and not have to worry at all about duties. Every Friday, they have a Fashion Friday deal and this week it is on these very cute graphic tees for both ladies and kids. Regularly $34.99 for the ladies, now only $14.95 and $29.95 for the kids, now only $11.95 with promo code, I may have to pick up a few for myself and my kids.
Click here to shop @ Mycentsofstyle.com now
Coupon Code: FAVTEE
Discount: Shirts as low as $11.95
Expiry: 12th April 2015
What I love about shopping at unique and small stores like these in the U.S. is that no one is going to have the same top as me. Sure, I could get graphic tees for the same price at Bluenotes or Ardene, but so can the entire high school down the street. There's not much worse than wearing the same graphic tee to a town event as the 16-year-old standing next to me.
These graphic tees are very cute, with cute sayings that totally suit me and my kids. For me, I'm loving this shut the front door baseball tee. I have a friend who is always saying this and she would also love this top.
For my oldest son, I know he'll love this Meh top, as that seems to be his pre-adolescent attitude. I like that this comes in sizes small enough for newborns all the way up to youth large. I sometimes like to dress my three boys in the same shirt and I often will have troubles finding a top that is available for toddlers as well as big kids.
I was considering this middle child top for my middle child, but the largest size they have left is 18 months. I think this would make a fantastic top to announce a pregnancy. I actually put my son in a top that said big brother and nonchalantly posted it on Facebook. The quick caught on.
My youngest would totally suit this word to your mother tee.
What's your favourite top in this collection, Bargainmoosers?