Cars or Tinkerbell Wheeled Backpack Only $11 & Free Shipping @ Walmart.ca!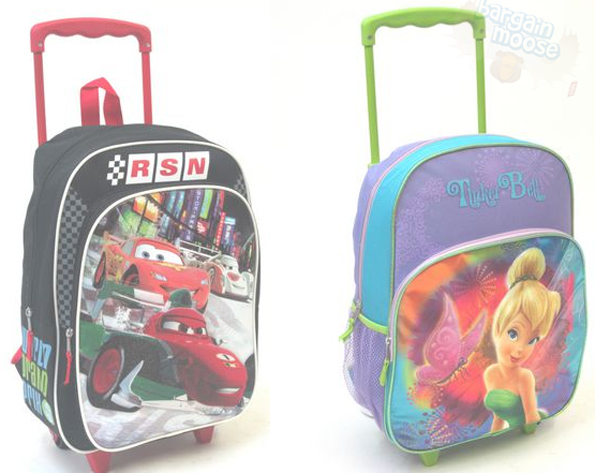 The clearance section over at Walmart.ca often has excellent bargains combined with totally free shipping on any order. I was browsing it this morning and I spotted a deal on the Disney Cars backpack which was selling for only $11, down from an original price of $20. I scrolled down and spotted the same price on the Disney Tinkerbell backpack too, another good deal. Here they are:
The images above seem quite washed out, I don't know how true they are to the actual colours of these items in the flesh.
As we've found with the items from the Walmart clearance pages, the stock never seems to last very long. If you'd like one of these wheeled backpacks for your little one, then buy one now.
Each of these backpacks has a collapsible handle which is handy if you are throwing it in and out of the trunk of the car. They've got a foam padded back panel too, if the kid is actually wearing it on their back instead of wheeling. The dimensions on the Cars backpack state that it is L56 inches x W32 inches x H17 inches, but this MUST be wrong. You couldn't have a 56" high backpack! They definitely have got their centimetres and inches mixed up on that one.
As for price comparing elsewhere, that's a difficult task to do, as I cannot see these EXCAT backpacks anywhere else. But Disney branded items are always popular and sell at a premium. In googling for "Disney kids wheeled backpack," we can see that there are a few similar models which we can compare. This Tinkerbell one on Amazon is $30, there are various Cars and Fairies ones here on Heys for around $30, there's a similar princess one here for $20 on Toys R Us, and there are similar ones here on Best Buy from $29+. All in all, I think the $11 price tag from Walmart is excellent, especially considering the totally free shipping.
(Expiry: Unknown)