Build A Bear: New Paw Patrol Bears (Plus $10 Off $40)!!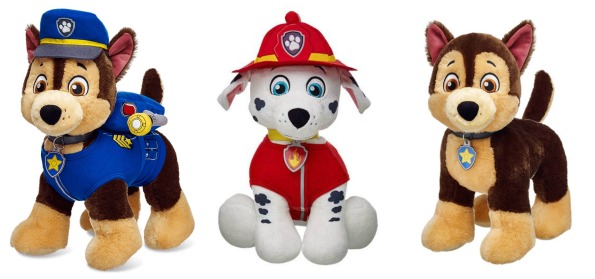 The cutest thing I have seen this week has to be these Paw Patrol stuffies at Build A Bear. This new line of personal stuffed toys has Canadian adults and children going crazy. You can get many of the popular characters from the Paw Patrol show like Chase or Marshall. Prices start as low as $28 USD for the actual stuffed animal and prices start as low as $7 for accessories.
These new Paw Patrol animals at Build A Bear are going to be all the rage. So many kids are obsessed with this show and the toys that come with. So while this is a US website and you may be hit with duties, these Paw Patrol bears may be worth it. You can always choose to shop in stores if you have one local enough - that way you avoid any shipping and duty costs.
If you do shop online, please use this code to relieve $10 when you spend $40 or more at BuildABear.com:
Coupon code: 10JAN40
Discount: $10 off $40
Expiry: 13th January 2016
My son's favourite Paw Patrol character is Chase, so I am happy to see the 15 in. Chase available for $28 USD or the fully outfitted Chase the Police Pup for $60. You can also get the 13 in. Marshall for $28 or even the Marshall the Firedog for $60. How cute are these pups? I am starting to want one for myself.
There are Paw Patrol accessories too, so even your child's current Build A Bear toys can dress up. Get the Chase's Vest & Hat Set for $15 - or even Marshall's Vest & Hat which is also $15. 
While I did get excited when I saw "Free Shipping on orders over $40″ on the BuildABear.com website, it only applies to US orders. Thus, I think it would cost less money to actually create the bear in stores and not worry about any shipping costs. It is also more fun and a little more personal to stuff the bear and make a wish on the little heart they put inside. I don't think you will get the same $10 discount in that case. Pick your poison here though, is it better for you to order online or in stores?
There are also plenty of costumes and accessories for your new stuffed friend. Variety may differ depending on stores, but aren't these just the coolest little teddy bears?! You can checkout other coupon codes and discounts available at BuildABear.com in our Bargainmoose forum.