Best Buy Canada: Turtle Beach Earforce Headset For PS3 Final Clearance | Now $40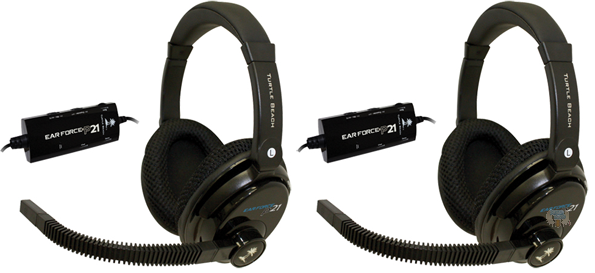 Many serious Playstation and Xbox gamers tend to love their headsets, especially when they're competing against other gamers online. One of the more popular brands that manufactures these headsets is Turtle Beach, and at this time Best Buy is having a final clearance on one of their models! For a very limited time (in other words - act now if you can find a use for them), you can order a Turtle Beach Earforce Headset for the Sony Playstation 3 for just $39.97! They currently sell on Amazon for $63.15, and it's normally $59.99 on Newegg (but it's out of stock). This order will also qualify as free shipping!
This Turtle Beach Earforce Headset for the Sony PS3 allows gamers to hear crystal clear sound while they play against online players. You'll be able to hear all the music and sounds of your video games, and comfortably chat with your fellow online gamers with this headset.
The only headset I personally tried out while playing against other gamers online was the stock one that came with my Xbox 360 elite system back in 2008. Since it was a very basic headset, it just couldn't sustain the sound quality that these professional high grade headsets can. However, even though the sound quality wasn't the greatest, I thought that it was very useful for my online gaming sessions.
The Turtle Beach Earforce Headset looks sleek and comfortable to wear. There are some mixed reviews on these Turtle Beach Earforce Headsets, but I've included a brief review from a satisfied Best Buy customer below:
Greatest headset to own so far. Comfort is great on these, can hear clearly. Only problem is when you have it on mute and someones talking, it says your talking too, but thats not such a big problem, anyways 5/5 stars.
Quantities are very limited, so if you're looking for a headset for your PS3 system, perhaps you should check these out. I hope you all enjoy your day, Bargainmoosers!
(Expiry: Unknown)