Best Buy Canada: 55% Off i Play Reusable Swim Diapers - Now $7.50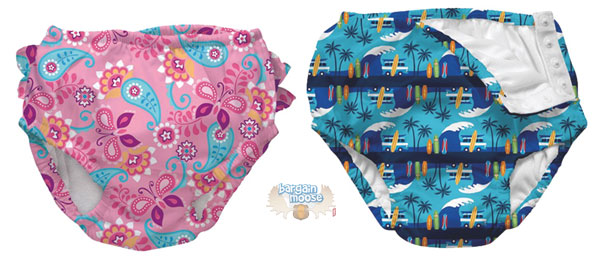 Got a pool? Got a little one? Then you need swim diapers! Luckily, Best Buy has the i Play reusable swim diapers on sale for just $7.49 instead of their regular price of $16.49, which puts them at a 55% discount.
Up until now, my munchkin hasn't been ready to hit the pool, or at least I haven't been, but now that summer is winding to a close and she is beginning to love her evening baths, I have been looking into getting a swim diaper that is both good and affordable. These swim diapers are 100% polyester microfibre and the best part is that... wait for it... they're machine washable! When you have a baby, anything that is machine washable is always a major plus as you certainly don't want to spend ages washing things by hand!
According to the description, the inner layer is "extra-absorbent". Now, that's definitely a feature that would need to be tried and tested first as we all know how bad poopsplosions can be, but it's still reassuring that they're designed with an extra level of absorbency.
When you click on the links above, depending on whether you're shopping for a boy or a girl, you will also see short-like diaper styles. They're more expensive but these are also on sale. You can get them for $11 off at $14.99 (reg. $25.99).
Looking up reusable swim diapers, all the ones I found were upwards of $15 in price. I did, however, find some girls' swim diapers on sale for $5.99 at Kushies, but when I added them to my cart and entered by address, these went back up to their original price of $11.99. Plus, they also don't have any for little boys.
Since Best Buy only ships orders over $20 for free, you could either stock up on the next sizes of these diapers or shop around the rest of the VIVA baby items on sale. In fact, you can also take advantage of a "buy more, save more" event, where you can save 10% on the purchase of three items, 15% on five items or 20% on eight items or more. This promotion is only valid on items from the following VIVA categories: beauty, personal care, vitamins & supplements along with sports nutrition.
(Expiry: 21st August 2014)