Best Buy Canada: 40% Off Evenflo Big Kid DLX Jonah Booster Car Seat - Now Just $57 & Free Shipping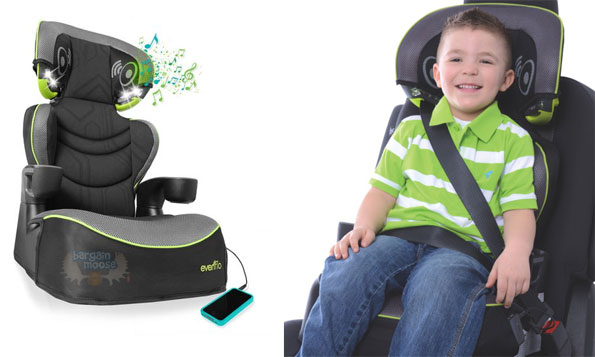 Has the time come to get a booster seat? At Best Buy, you can get the Evenflo Big Kid DLX Jonah booster car seat for just $56.99. It was originally priced at $94.99, which means that you're looking to save $38 but only until the end of the month. Shipping is free as well as Best Buy ships orders over $25 for free.
Designed for kids ages from 48 months to 96 months, this booster car seat is more specifically suited for kids under 49.8kg in weight and under 145cm in height.
It's Transport Canada certified and tested in accordance with all of the crash test standards, which is great and all but do you want to know what makes this car seat truly awesome sounding? It has built-in speakers.
I'll let that sink in for a moment: built-in speakers -- how cool is that? This means that no matter how short or long the ride is, your kid could entertain himself by playing games or watching movies on a tablet. Gone are the days of: "are we there yet?" We live in a tech world and this is definitely a pretty nifty feature!
Out of 10 ratings, this booster car seat has a total of 4/5 stars with reviews like this one:
We love our new car seat. The special feature of speakers and lights is great for long trips.
In fact, only one reviewer rated this car seat 1/5 stars but didn't even provide a review.
Plus, it also has dual-activity lights on the headrest that allow kids to read or colour in full brightness without these distracting whoever is driving. Keep in mind that these do require two AA batteries that aren't included.
Another very convenient feature that any parent is sure to love is that the car seat pad is machine washable. Plus, the plastic and metal parts can easily be wiped clean with mild soap and water -- or you can just use a baby wipe like I do! :P
At Shop.ca, this same booster car seat is currently sold out but was on sale for $74.99 (reg  $99.99) and at Walmart, it's currently priced as high as $95.
(Expiry: 30th April 2015)