Bean Boozled Bonanza 50% Off @ Amazon.ca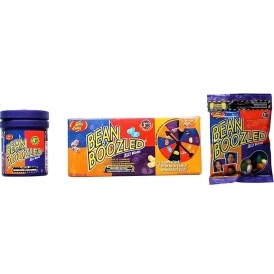 Okay this game is disgusting if you're over the age of like 11, but my 8-year-old daughter and her friends are OBSESSED.
Have you heard of it Bean Boozled Bonanza? It's a game by Jelly Belly, maker of delicious gourmet jelly beans, only the catch is they have introduced some truly revolting and wild flavours—like skunk spray, dead fish and booger—into the mix. Um. NO THANKS, I'll leave this one to the kids. The object is to spin the wheel, land on a colour, dispense a bean of that colour and eat it—only you don't know if you've lucked out with the delicious flavour, or the disgusting one in the exact same shade!
Like I said, the kids are going crazy for this game and not just because of candy. They love the mystery and suspense and have an absolutely ball while they play. But it's not cheap! And you have to replace the beans eventually. So if you want to pick this up and give it a try, today might be they day. This set is usually $55 but today you can get it for $25. Hurry, they are selling fast (believe it or not!).
Unfortunately you will have to pay shipping on this item, which is $9.99, but even with shipping you'll be getting the entire game and refill for $10 off its regular price.
(Expiry unknown, while supplies last)